---
DECORATIVE TREES & SHRUBS
Cercidiphyllum japonicum
KATSURA Z5b/11m ‡
Japan's largest deciduous tree. Pest free. Prefers rich soils in a location sheltered from drying winds and late spring frosts. Has distinct male and female forms, the male being more columnar. Delicate heart-shaped leaves, blue green in summer, turn both yellow & scarlet in autumn. Large specimens in Montreal's Botanic Gardens and Toronto's Mt. Pleasant Cemetery.
80-150cm
$15 each
3 for $36

Sold Out



Viburnum lantana
WAYFARING TREE Z2b/3m ‡
Wide cymes of white flowers in June followed by red berries in Sept. which gradually turn dark to match the purple autumn leaves. Tolerates prairie winters and dry soils. One of the best looking wildlife plants; it attracts creatures all year long.
60-80cm
$12 each
3 for $30
120-150cm
$15 each
3 for $36
Pick Up Only
Euonymus europaeus
SPINDLE TREE Z4a?/4m ‡
Named for its useful, hard, nonsplitting wood, this formal little tree is of great use in landscaping. Brilliant fall colour. Dangles of orange fruit. From a fine specimen at the Ottawa Experimental Farm.
1-1.5m
$15 each
3 for $36
Pick Up Only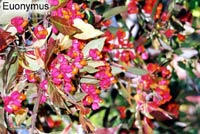 Euonymus alatus var.
TWEED EUONYMUS Z4/2.5 m ‡
After visiting many distinguished collections of euonymus, it is ironic to find the most beautiful form yet - probably a Burning Bush hybrid - growing & glowing in a nearby town. Neat, sturdy, straight stems literally light up in autumn with long-lasting rosy leaves. Top notch.
Everything about magnolias is dramatic.
Harrowsmith Magazine
Magnolia stellata
STAR MAGNOLIA Z4b?/3.5m
Hardy Japanese magnolia named for its bright white, fragrant flowers which precede the leaves. Protect the surface roots from cold, heat and hoe. Attractive form. Can be dwarfed as a tub plant with light pruning.

Prunus maackii
AMUR GOLDBARK CHERRY Z1b/8m
An explosive grower, its satiny bark varies from muted gold to a radiant amber that seems to glow from within. The effect contrasts dramatically with snow or a grove of Birch. Features racemes of white flowers, fruit for wildlife, few pests and an arctic hardiness. From Manchuria.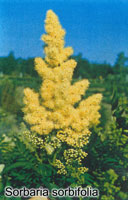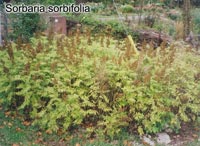 Sorbaria sorbifolia
URAL FALSE SPIREA Z2/1.5-3m ‡
Rugged Siberian with lance-like leaflets & fleeces of cream-white flowers. If planted en masse it will handsomely cover rough ground. Tolerant of almost anything but grass competition.
1.5m
$15 each
3 for $36
Pick Up Only
Cotoneaster lucidus
HEDGE COTONEASTER Z2/2m ‡
Hardy hedging. Will trim to any size. Small pink flowers, lustrous leaves, large black fruits. Orange-red in autumn. From the Altai Mts. of central Asia. Pretty and reliable.
80-120cm
$12 each
3 for $30
Euonymus sachalinensis
ASIAN SPINDLE TREE Z4b/2m
Another rare beautiful offering from that long misty island north of Japan. Sumptuous foliage, brilliant red in fall. Extravagant scarlet fruit. One of the showiest of all shrubs yet easy to grow.
Catalpa ovata
CHINESE CATALPA Z5/10m ‡
A svelte, medium sized catalpa from the mountains of W. Central China with huge rich green leaves. Long panicles of cream-coloured, purple, speckled, flowers in early August form curious, long slender seed pods. Pollution tolerant. Considered the best bee tree in Japan.
Celtis tenuifolia
DWARF HACKBERRY Z3/6m
A small, drought-tolerant shade tree or bush suited to sandy and calciferous soils. A thin layer of edible flesh surrounds the seed. Uncommon north of the Ohio River and rarely offered by nurseries.
80-100cm
$12 each
3 for $30
10+ $8 each


---
ROCK GARDEN & GROUNDCOVER
Cotoneaster dammeri
BEARBERRY COTONEASTER Z3/30cm
This low-growing evergreen shrub is found creeping around the entire SE flank of the Himalayas. Cheerful red berries and purple fall leaves. Likes calcareous soils. A highly recommended ground cover, aggressive but not invasive.
Callicarpa bodinieri
BODINIER'S BEAUTYBERRY Z5/2m
Grown primarily for its decorative purple berries, so bitter they last through the winter. Small lilac flowers, red leaves in autumn. From central China. Attractive solo or in groups.
Eunymus fortunei var.
EMERALD GAIETY EUONYMUS Z5/1m
A cheerful evergreen bush, its sparkling green leaves edged with silver-white. Shade tolerant. Fits anywhere. From the S.E. Himalayas.
---
ROSE
Rosa rugosa
RUGOSA RED ROSE Z2/1.4m
As well as supplying hips for food, this densely flowered frangrant rose makes a carefree 1.2m hedge when planted 70cm apart. Vigorous, will tolerate even sea spray & is hardy to Zone 2. Rugosas are now grown as a cash crop in Nova Scotia. The odd 'sport' will have white flowers.
---
LILAC
Gardening, thankfully, is a way to combat the fast pace of life. "Sanity in the soil" we call it. When nature decides to go "on-line" you'll know it's time to throw in the trowel.
Plant & Garden Magazine
Syringa villosa
PINK VILLOSA LILAC Z2/3m ‡
A Chinese lilac blooming in late June with copious pink flowers. Won't sucker. Transplants well. Trims easily to a small tree. Very hardy, thrives on most dry soils & blends well with wild lilacs. For hedging, plant 1m apart.
120-200cm
$18 each
3 for $45
Pick Up Only
Syringa reticulata
JAPANESE TREE LILAC Z2b/5m
Late-blooming, tree-form lilac that pops out long plumes of creamy, fragrant blossoms in early July. Branches radiate, in the Japanese manner, giving dense shade. Patterned, cherry-like bark contrasts well with snow. Tolerates poor soils.
80-120cm
$15 each
3 for $36
Copyright © 2017 The Golden Bough Tree Farm