---
If birds are bothering your orchard or garden, provide a bird bath. Birds often peck fruits and vegetables mostly to get water.
Small Stock Journal
FRUIT TREES
XL Stock
Most of our stock is available in sizes easily shipped by mail, that is, under 1m.
‡ This symbol indicates plants that are also available in sizes over 1m. The price is the same but you'll have to come and pick them up. This year some items are available only in sizes over 1m and these are marked. For Pick Up Only
Our Spring pick up dates are April 22, 23 and 29, 30, 2017 between 8am and 4pm. Please see Specials or this map to Marlbank for directions.
---
PEAR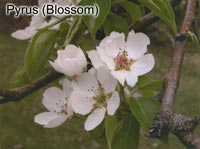 Pyrus ussuriensis
HARBIN PEAR Z2/6m ‡
The hardiest species of pear known. From N.E. Manchuria. Resists fire-blight & ripens in a growing season of less than 150 days. Small green-yellow fruit is sometimes preserved. Excellent for livestock. The tree itself is indispensable in cold regions as a pollinator & rootstock. En masse it forms a flowering, fruiting, impenetrable property screen or living fence line.
1-1.5m
$15 each
3 for $36
Pick Up Only
---
APPLE
Anyone can count the seeds in an apple.
Who can count the apples in a seed?
Stephen Covey - The Sun
Malus var.
ROOTSTOCK APPLES Z3/7m ‡
We have an assortment of prairie hardy seedling apples suitable for rootstock on which to bud your favourite apple varieties. In early August, cut budwood from the best tasting, storing, disease-resistant apples in your area. Then graft their buds on to our rootstock. This produces a long-living, full-sized tree that grows beyond the reach of deer.
120-200cm
$15 each
3 for $36
Pick Up Only
PLUM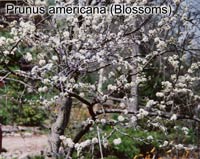 Prunus americana
AMERICAN PLUM Z3/3.5m ‡
Small, twiggy wild plum often forming thickets. Particularly lovely white, fragrant flower clusters precede leaves. Red to yellow fruit used in preserves. Plant as pollinators on the edge of your designated plum area or as hardy ornamentals.
80-150cm
$15 each
3 for $36
10+$10 each
---
eLDERBERRY
Sambucus canadensis
AMERICAN RED ELDERBERRY Z4/2m
Big, cheerful corymbs of lacy white flowers produce a multitude of red berries for jams or wine. Prefers sun but will tolerate partial shade. Reputed to ward off Dutch Elm disease when planted over the roots of native elms.
50cm
$10 each
3 for $24 each
---
GRAPEs
Three hungry travelers with only one coin argued over what to eat. One wanted a sweet, another several sweets, the third was thirsty. A passing Sufi took their coin and bought grapes, satisfying them all.
Vitis var.
CANADICE RED Z5
Red grape forming long clusters. Excellent for fresh eating and juicing. Ripens in mid August to September.
MINNESOTA Z3
Sweet reddish-purple variety that requires pollinator due to having only female flowers.
GREENTO GRAPE Z4
An odd name for a red grape that is hardy to -40°C. Good for eating or wine-making. Developed by gardeners in Québec.
Copyright © 2017 The Golden Bough Tree Farm