---
EVERGREEN
---
ASIAN SPRUCE
POLITICALLY CORRECT TREES
"It's not native," we sometimes hear from our customers. "Neither are you," we sometimes reply.
The streets of every Canadian city from Winnipeg to Halifax are lined with imports, mainly European maples that better cope with asphalt and pollution than our pristine native maples. Well over half of the plants we enjoy in our gardens are foreign, many of them named after their region of origin or the brave plant collectors who "discovered" them. When our distinguished collection of Asian Spruce is dismissed as "non-native", we hear the voice of narrow ideaology. In all its vast area, eastern Canada contains only three species of spruce; red, black and white, and only the latter has ornamental value, whereas all our rarely offered Asian Spruces are attracive. Some are endangered as well. Please give them a home.
---
Picea jezonensis ssp. hondoensis
YEDDO SPRUCE Z3/12m
Needles silver-white above, glossy dark-green below. Decorative cones. Sparkles with vigor. From the Japanese Alps. Tight, natural Christmas tree form suitable for many uses. Among the best of Asian evergreens.
Picea asperata
DRAGON SPRUCE Z3?/12m ‡
A dark, short-needled spruce from the dry mountains north of the Yellow River in W. China. Rugged open form similar to our native Black Spruce. The reason for its dramatic name, unknown.
Picea koyamae
KOYAMA SPRUCE Z4b/15m
Light green narrow pyramidal spruce from altitudes of 1500-2000m in alps of central Japan where few survive. Highly ornamental. One of the rarest of all Japanese evergreens.
ASIAN SPRUCE SPECIAL
10+ $10 each
25+ $8 each
50+ $6 each
Any Mix

---
SPRUCE
. . . Spruce Grove, River View, Rolling Hills - we name our subdivisions after that which we are about to destroy.
W.H. Whyte, Landscape Architect
Picea omorika
BALKAN SPRUCE Z4B/18m
A narrow green-blue spure with plates of reddish bark. Widely distributed in Europe before the Ice Age isolated it in the central Balkans. Genteel drooping appearance. Attractive in groves. Fast growing and tolerant of air pollution and most soils.
60-100cm
$15 each
3 for $36
Sold Out
---
PINE
Make the world a bit better or more beautiful because you have lived in it.
Edward Bok - Landscaper & Philanthropist
Pinus mugo pumilio
SWISS DWARF PINE Z2/1.2m
Bright green miniature pine from Alpine Europe. Cheerfully informal; can be trimned in June to a bonsai shape or an easy-going hedge. Immune to windburn.

Pinus koraiensis
KOREAN PINE Z4/12m
One of the handsomest of the Asian White Pines, its pistachio-sized seeds can be eaten raw or pressed for high quality oil. Slow-growing, attractive ornamental. Rivals our own White Pine in beauty.

---
FIR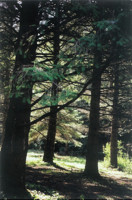 Fir woods at the Morgan Arboretum on the west island of Montreal: Eastern Canada's finest collection of Abies.
Abies concolor
SILVER FIR Z4b/18m ‡
Matures into a soft cloud. Sargent's favourite tree in the Arnold Arboretum. It sports greyish-blue needles and candle-like upright cones. Though native from Mexico to Oregon, it fares well here and in Europe if its roots are kept damp and cool. Tolerates shade & can be under-planted in deep woods..
80-100cm
$20 each
Pick Up Only
Sold Out
---
HEMLOCK
In the Divine Comedy Dante reserves the seventh circle of the Inferno for those who have sinned against Nature.

Tsuga canadensis
EASTERN HEMLOCK Z4/18m ‡
Graceful soft branches of pendulous form. One of the few eastern trees with a "rain forest" look. Superb hedging. Tolerates shade & north slopes but not wind. Long-living. A best buy.

40-60cm
$12 each
3 for $30
---
CEDAR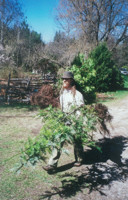 Snappy delivery: you want cedars? We've got cedars.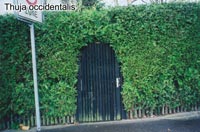 Our good ol' White Cedar used as hedging near Augsburg, Germany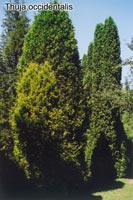 Thuja at the Morgan arboretum. West Island, Montreal.
Thuja occidentalis
WHITE CEDAR Z3/10m ‡
One of E. Canada's prize evergreens. Makes friendly hedging with a lovely scent and excellent cover for wildlife. Vitamin C in its bark & foliage rescued Carter and Champlain from scurvy.
60-80cm
$12
3 for $30
10+ $8 each
100-150cm
$15
5 for $60
10+ $10 each
Pick Up Only
---
LARCH
The Larch greets the coming spring with an outburst of vivid vitality that no other tree can equal.
C. Clarke Nuttal -Trees & How They Grow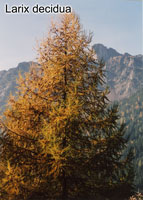 Larix laricina
TAMARACK Z2/18m
Our native Tamarack thrives on low land. The phases of its deciduous needles make it an outstanding ornamental particularly in groves which turn lime green in spring and then a range of gold in fall. Heavy, durable wood good for construction & fuel. Birch bark canoes are stitched with tamarack roots.
50-70cm
$12 each
3 for $30
Sold Out
Copyright © 2018 The Golden Bough Tree Farm