---
NUT TREES
---
HAZEL
I am inclined to envy my ancestors for their hazel nut harvest. Whole families used to take to the woods, camping, cooking out, collecting hessian sacks of nuts for sale to bakers.
- Ralph Whitlock, Manchester Guardian
Corylus avellena X
HAZEL FILBERT Z3/3m ‡
Large-nut European Filbert crossed with American Hazel to increase frost hardiness. Though shade tolerant, Hazels in full sun produce a dense, multi-stemmed clump; a food-laden screen. Uninvasive roots. Plant as close as 3m apart to enhace pollination.
70-90cm
$12 each
3 for $30
10+ $8 each
1-2m
$18 each
3 for $45
10+ $12 each
Pick Up Only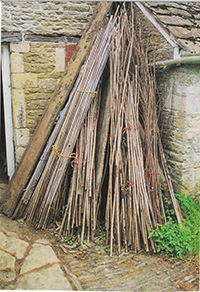 Prince Charles takes his farming seriously: these pliant rods from his hazel shrubs are used for plant supports and pleated fencing. Otzi the Ice Man used shafts like these for his arrows 5000 years ago.
Corylus colurna
TURKISH TREE HAZEL 5b/7m ‡
Outstanding ornamental food tree from Asia Minor. (Turkey's steep Black Sea coast is the world's HDQ for Corylus species.) The only tree-hazel (along with a Chinese cousin), its strict pyramidal form, crurious corky bark & drought tolerance make it a landscaper's favourite.
80-150cm
$15 each
3 for $36
10+ $10 each
---
OAK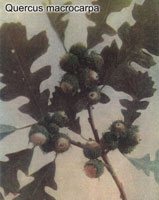 Quercus macrocarpa
BUR OAK Z2b/16m ‡
Hardier form of White Oak. Perhaps the largest of the original hardwoods remaining in Eastern Canada. Tolerant of pollution & varied soils. Survives maritime damp and prairie temperatures where its corky bark insulates it from grass fires. Rugged bole & convoluted limbs impart an elemental or Old Man of the Woods appearance.
80-120cm
$15
3 for $36
10+ $10 each
Quercus bicolor
MARSH OAK Z4?/15m ‡
Sparkling appearance and problem free. Bicolor leaves, glossy on top and velvety beneath. A daintier form of Bur Oak, its branch bark exfoliates revealing lighter inner colors. The preferred native oak for low land.
Quercus robur
ENGLISH OAK Z3/14m ‡
The ship wood of Europe. 800-year-old examples flourish near Windsor Castle. Our seedlings grown from Z3 seed will handsomely hybridize with White & Bur Oaks. Its edible acorns fed our distant ancestors.
Thoreau commented on the lumbermen of his time: "Thank God they could not cut down the clouds."
Quercus imbricaria
SHINGLE OAK Z5/15m
Distinctive medium-sized Red Oak from mid-America. Noted for its light bark & long, bright, blade-shaped leaves. Flourishes on lime soils. Wood splits readily into shingles.
30-50cm
$12 each
3 for $30
Sold Out
---
WALNUT
Juglans cinerea
BUTTERNUT Z3/13m ‡
Now it's more important than ever to plant Butternut since native populations are succumbing to a blight. Well suited to upland soils, this deep-rooted, medium-sized tree produces large delicious nuts that crack readily with a hammer or vice. Light, easily polished wood. Husks and inner bark produce a yellow dye.
80-200cm
$18 each
3 for $45
Streams are the blood veins of a mountain, the vegetation its hair, the clouds & mists its expression.
Kuo Hsi, 13th Century The Great Message of Forests
Juglans nigra
BLACK WALNUT Z3?/19m ‡
Vigorous, stately ornamental combining valuable lumber with an edible nut. Deep root system thrives in moist well-drained loam. The foliage attracts the luna moth. Intolerant of full shade. Golden Bough now enjoys a small walnut plantation started in 1974.
1-1.5m
$18 each
3 for $45
Pick Up Only
Sold Out
Juglans ailantifolia var. cordiformis
HEARTNUT Z5/11m ‡
Large, spreading Japanese Walnut with attractive bark, extravagant tropical foliage and long strings of heart-shaped nuts that are sweet and relatively easy to crack.
80-200cm
$18 each
3 for $45
5+ $12 each
Juglans regia X nigra
DOOLEY'S HYBRID WALNUT Z5/13m ‡
A cross made in Indiana between the edible but frost-tender Persian Walnut and our much hardier native Black Walnut. These seedlings survive now in S. Ontario and their nuts tend to be meatier and thinner shelled.
80-200cm
$18 each
Sold Out
---
CHESTNUT
Aesculus pavia
DWARF RED BUCKEYE Z4b/3.5m
Smallest of the Buckeyes. In early spring (in Arkansas) "the buds are larger than jelly beans" as they spring into eager red flowers. Frost-hardy but rare in the north. Fills many niches.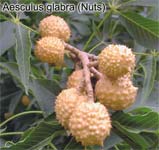 Aesculus glabra
OHIO BUCKEYE Z2b/9m
The hardiest and fastest growing of nut trees. Vigorous even on the prairies. Its dense round head gives heavy shade or screening. Large waxy buds, pale yellow flowers. Fruits early in life. Its nuts are second only to apples as our sheep's favourite autumn food.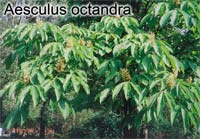 The flower candles and large drooping leaves of the stately Yellow Buckeye.
Aesculus octandra
YELLOW BUCKEYE Z3b/13m
Stately Appalachian native. Largest of the Buckeyes, the genus named for the white spot or 'deer eye' at the nut's base. Soft, workable wood. Flowers variable, yellow to pink in big clusters. Specimens at Mt. Vernon were planted by George Washington.
70-90cm
$15 each
3 for $36
---
EDIBLE CHESTNUT
Castanea x dentata
AMERICAN HYBRID CHESTNUT Z4b/16m
Destroyed in the late 19th century by an imported blight, the magnificent American Chestnut can now survive only when crossed with its blight resistant Asian cousin. The resulting hybrid, a sparkling ornamental, gives a generous supply of large edible nuts protected by a bristly, squirrel-proof casing. The re-emergence of this tree could prove economically and spiritually significant.
40-60cm
$15 each
3 for $36
5+ $10 each
Sold Out
Copyright © 2018 The Golden Bough Tree Farm