---
I am pleased when walking in a labyrinth of my own raising, not to know whether the next tree I shall meet is an apple or an oak, an elm or a pear.
Joseph Addison; The Spectator, 1712
SHADE TREES
All our shade trees can be planted 3 to 4 m apart - as long-living fence posts.
XL Stock
Most of our stock is available in sizes easily shipped by mail, that is, under 1m.
‡ This symbol indicates plants that are also available in sizes over 1m. The price is the same but you'll have to come and pick them up. This year some items are available only in sizes over 1m and these are marked For Pick Up Only
Our Fall pick-up date is October 13, 29, 2018 between 8am and 4pm. Please see Specials or this map to Marlbank for directions.
---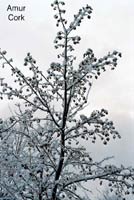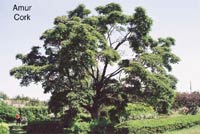 Phellodendron amurense
AMUR CORK Z3b/11m ‡
From N.E. Asia. Long feathery aromat ic leaves. Tropical in appearance. Beautifully textured bark. Its medium shade does not compete with lawns. Clusters of black berries hang well into winter attracting wildlife. "Tolerant of a variety of soils. Withstands city conditions and drought... rapid growth... transplants readily. Few pests." H.O. Perkins, Ornamental Trees
80-120cm
$15 each
3 for $36
1.5-2m
$18 each
3 for $45
Pick Up Only
Celtis occidentalis
HACKBERRY Z3/15m ‡
Its vase shape & disease resistance, makes Hackberry the best native replacement for Elm. Crown is almost as wide as the tree is tall. Tiny flowers followed by small, dark, edible fruit of importance to overwintering birds. Its deep drought-resistant roots permit an underplanting of shade-tolerant shrubs.

80-150cm
$15 each
3 for $36
The best time to plant a tree was thirty years ago. The second-best time is now.
-Proverb
Ginkgo biloba
MAIDENHAIR GINKGO Z5/14m
Thought to be extinct in the age of the dinosaurs, re-discovered in a Chinese temple in the 19th century. Untroubled by modern pests, pollution tolerant & adaptable to any well-drained soil. Unusual fan-shaped leaves. Called 'Yin-Hing' or Silver Apricot by the Chinese for its medicinal seed. An ancient specimen in Korea is the largest tree in temperate Asia.

Gymnocladus dioicus
KENTUCKY COFFEE TREE Z4b/11m ‡
Pale green June flowers, dangling seedpods, & long feathery leaves make this Appalachian native interesting in all seasons. Its shiny brown seeds resemble coffee beans. Root nodules contain nitrogen-fixing bacteria which enrich the soil.
100-150cm
$15 each
3 for $36
Pick Up Only
Spring Only
Gleditsia triacanthos inermis
THORNLESS HONEY LOCUST Z4/14m ‡
Delicate leaves give a light shade & disappear without raking. A rapid growing native Appalachian, Honey Locust is hardy in our mid-north where its ferny form looks almost African. In the pea family, its roots fix nitrogen. Interesting long twisted seed pods.
80-150cm
$15 each
3 for $36
10+$10 each
---
MAPLE
Acer saccharum
SUGAR MAPLE Z4/22m ‡
Edible sap & unequalled fall plumage. Shade tolerant when young, but sometimes slow to re-grow after transplanting. Grown on calciferous soil, our Sugar Maples are unstressed by acid rain & will make strong replacements in damaged syrup groves
100-150cm
$18 each
Pick Up Only
Sold Out
Unlike most living creatures, a tree keeps growing all its life.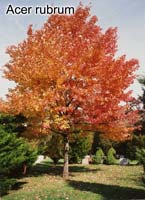 Acer rubrum
RED MAPLE Z4/14m
Pale bark that darkens with age, delicate leaves & a refined form. The most popular landscape maple. Though cold tolerant & wide ranging, it grows sparsely, almost elusively, in woods and marshes. Brilliant scarlet leaves in autumn.

80-100cm
$15 each
3 for $36
Spring Only
Acer nigrum
BLACK MAPLE Z3/20m ‡
Statuesque cousin of Sugar Maple with darker bark and droopier, more tomentose leaves. Gives equally great sap. Grows vigorously on rich lowlands. Grown from authentic seed.

80-150cm
$15 each
3 for $36
10+ $10 each
Acer ginnala
AMUR MAPLE Z2/6m ‡
Shrub maple from N.E. Asia known for its bright fall colours & small but very fragrant May flowers. Wilder & far hardier than Japanese Maple, it serves many uses in the northern landscape. Cream-red samaras or seed keys attract wildlife. Used as accent plant or as hedging or for colonizing poor land
1.5-2m
$18 each
Pick Up Only
Sold Out
Acer tegmentosum
MANCHURIAN STRIPED MAPLE Z3?/4m ‡
The most robust of the snake-bark maples and best suited to calciferous soils. More densely leafed and rounded then its N. American cousin and equally shade tolerant. Bright red twigs and vibrant green and white striped bark.
120-150cm
$15 each
3 for $36
Pick Up Only
Acer spicatum
MOUNTAIN MAPLE Z2b/4m ‡
Smallest of our Eastern Maples: tolerates shade & young mineral soils. Does poorly in the open. Red-grey bark, spring flowers & fall colours all very ornamental. Shallow rooted. Its delicate pink seed samaras are valuable to wildlife.
80-150cm
$15 each
3 for $36
5+ $10 each
---
BIRCH - available in spring ONLY
Betula papyrifera
PAPER BIRCH Z2/20m ‡
The northern landscape seems incomplete without the dazzling bark of the Canoe or Paper Birch. Considered among the world's most beautiful trees, this elegant native prefers cool sites. Tolerates shade while young. Unsuited to linear plantings: best in pure groves hi-lighted against a stand of conifers. Bark turns white around the fifth year.
60-100cm
$15 each
3 for $36
---
Willow - available in spring ONLY
I believe a blade of grass is no less than the journeywork of the stars.
Walt Whitman
A thing to take hot tempers out of us is to go gardening boldly in the spring ... hoping the utmost of everything.
John Ridd in Lorna Doone
Salix babylonica
WEEPING WILLOW Z3/11m
A northern-hardy form of the classic weeping willow of art & legend. Long slender drooping branchlets romanticize any property. Prefers water nearby. Golden bark.
80-100cm
$15 each
3 for $36
Salix integra "Haduro-nishiki"
DAPPLED WILLOW Z5/1m
Small riverine willow from N.E. Asia. Spectacular foliage: pink in spring mergin later with cream and green. Can be left in tree form or pruned back in late winter for fresh bright stems. Perfers full sun and dampish soil.
Salix pentandra
LAUREL-LEAF WILLOW Z4/8m
Long, glossy leaves sparkle when lifted by a breeze. For a double-mint effect, plant near Silver Maple. Can prevent ravice erosion & stop ponds from slumping. Prairie-hardy. One of our favourites.

Salix chermisina
REDSKIN WILLOW Z2/3m
A hedge willow meant to be pruned severely in early spring to produce a profusion of bright red shoots. Puts cheer into wintery landscapes. Nice too for flower arrangements.
80-100cm
$12 each
3 for $30
Sold Out
Salix sachalinensis 'Sekka'
FANTAIL WILLOW Z4/3m ‡
A gnomish mound, popular in Japanese gardens. Named for it's surreal branch-ends which flatten into fans, like goldfish tails. Low form useful around ponds where it's roots retain earth without expensive foundations.
80-150cm
$15 each
3 for $36
Earth is a goddess. She teaches justice to those who can learn, for the better she is served, the more good she gives in return. Xenophon, Greek general and farmer, 400 B.C.
Salix cinera var.
PUSSY WILLOW Z3/3m ‡
A small damp-land willow with circumpolar distribution. Charming furry gray catkins used as festival decorations by many cultures as they welcome Spring. Great for cuttings and flower arrangements.
Copyright © 2018 The Golden Bough Tree Farm