---
About Us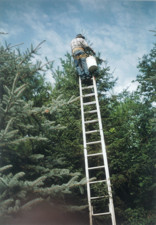 The gallant seed picker, Ted Cormier, up to his spruces.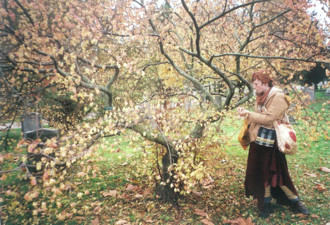 Picking Ironwood seed in Mt. Pleasant Cemetery.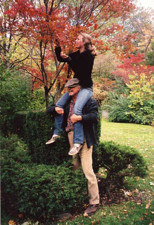 Picking seeds in an arboretum.
Located in eastern Ontario, 50 km northwest of Kingston, Golden Bough Tree Farm has been growing rare and native plants for more than thirty years. Our seedlings are now mature trees in every province of Canada.
Prices here are remarkably low because we sell only bare-root plants - not the pot, the soil, nor the sales staff. Our trees and bushes come to you in a dormant state. When plants awake from winter, they wait a few weeks for the proper heat and light conditions to begin growth. The reverse is true in the autumn when plant metabolisms slows down before freeze-up. Only during these brief weeks of dormancy can we dig, grade, pack and mail your choices. Prompt and careful planting by the customer ensures a cost-effective operation.
We offer plants in three forms:
SEEDLINGS One to three years old, dug from the bed in which they grew from seed. These seedlings are graded and priced by size. The smallest are replanted in rich nursery beds and sold later as larger, stronger transplants. SEEDLINGS are less expensive but younger and take more care. Hence, they are not guaranteed.
TRANSPLANTS have been pruned and quickly replanted at regular spacings in fertile soil where concentrated nutrients create compact, fibrous root-systems which suffer little shock when dug for sale two or three years later. If trees of the same size were dug from the wild only traumatized root stubs would remain with a poor rate of survival and growth. When mulched and regularly watered, Golden Bough transplants are guaranteed. (See Order Form page).
OVERSIZED STOCK Some transplants grow too large to be mailed - 1.6 metres being the maximum length allowed by Canada Post. Customers who can pick up their orders often benefit by receiving XL stock for the same price as mail-order size. Stock that is left at season's end we sell for extraordinarily low prices on our clearance day. Big trailers or enormous vans are NOT necessary to get these trees home: pickup trucks, station wagons, car roofs, large trunks and fold-down back seats usually suffice. Bring a tarp.
Success in transplanting bare-root plants is directly proportional to the effort put into site preparation. The quicker your plants are in the ground - meaning rich, well-turned soil and not a rock pile - the better they will grow. Bare surfaces heat up and lose moisture quickly so form the soil into a bowl (for easier watering) and mulch generously with straw, lawn-cuttings or sawdust. Heavy watering twice a week is better then a daily dribbling.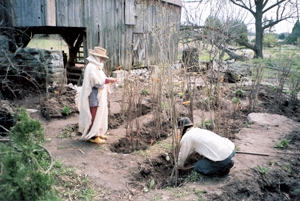 Here in early spring we see Mrs. Bough and Ethan heeling in freshly dug, dormant trees where they will be briefly stored before shipment.
A tree nursery has to run a bit like a combination shot in billiards: one process hits into another and then another, hopefully en route to the designated target.
This is especially true of a bare-root operation like ours which can dig, package and mail out plants for only a few weeks in the spring and fall when the trees are dormant. Once in leaf, with all systems flowing, a tree cannot be moved without causing shock ... just as humans cannot be operated on without anesthetic (a chemically induced dormancy).
Of course, potted plants can be moved at any time, but the customer must pay for pot and soil and other expenses. Only bare-root trees are light enough to be sent economically through the mail. And that's why our prices are - as many have observed - wondrously low.
Our system relies on intelligent customers who realize the critical time-frame involved and the value of site preparation. Draw a plan and dig your holes ahead of time, for as Alfred Hitchcock used to say about planning a film: "Make all your mistakes on paper." Bring in proper soil if it's not there already. Added peat retains moisture while sand helps roots to circulate.
Basically, the first year shows little growth. Be grateful that your plants leafed out and are busy re-establishing their roots. During the second year the leaves should appear more lush and modest growth will occur. It is during the third year that plants take off. Time and again customers have told us of walking their properties and wondering, "How did those great things get there!"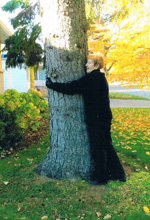 Veronica O'Hara hugging her beautiful Spruce tree.
A Few Tips:
Tie your trees - especially the tall skinny ones - to a supporting pole or stake. Otherwise the wind moves the tops and tears the roots, which greatly retards growth.
Try to remember your plants' names in Latin. Then you can tell a German or a Manchurian all about them because they use the same universal nomenclature.
Contact Information
We recognize the importance of customer contact and have found that regular mail or email is the best way to maintain this relationship. If you do need to contact us, Please Write to Us at:
Golden Bough Tree Farm,
P.O. Box 59, 900 Napanee Rd.,
Marlbank, Ontario K0K 2L0

or email us at goldenbough@lks.net
To receive a printed catalog, email us your mailing address and add $4 to your order.
Copyright © 2019 The Golden Bough Tree Farm