Nature cleans a cylinder. That's why trees are round. It's not for strength as they tell you in school. Cylinders are strong, but trees and other such living things are cylinders because the wind will scrub them at any angle it blows.
Roman Szpur, Inventor of the laser lens
---
DIRECTIONS
---
Directions: From Highway #41 take County Road #13 west from Beaver Lake for 6km to the Municipality of Tweed sign. Golden Bough is then the first farm on the south side, #900.
Alternately, go though the village of Marlbank to the north end and follow the road to the right (east). Golden Bough is then the second farm on the South side, #900 Napanee Rd. Map to Marlbank.
SPECIALS - ONLY AVAILABLE IN SPRING
---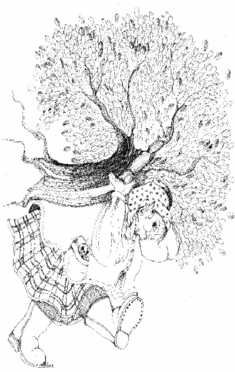 $300 SPECIAL
50 trees & shrubs
Suited to Your Climate
Ideal for landscapers, regional planners, camp sites, trailer parks, golf courses and reforestation projects.
At $6 each these trees and shrubs are a bargain!
The catch is, we choose what you get, mostly from the species we have a surplus of.
Please indicate your climate zone and the percentage of trees vs. shrubs you prefer. They'll fit in the back of a van or pickup.
Pickup date: Saturday, April 28
Prepare your planting site beforehand.
OPEN HOUSE
Saturday & Sunday, April 28/29, 2018
9:00am to 4:00pm
Come, browse and choose from our great selection of bare root trees and shrubs.
END OF SEASON CLEARANCE
Saturday & Sunday, May 5/6, 2018
Great buys on over-sized & leftover trees & shrubs.
Cash Payment
The tree which moves some to tears of joy is in the eyes of others only a green thing that stands in the way. Some see nature as ridicule and deformity... and some scarce see nature at all. But to the eyes of the man of imagination, nature is imagination itself.
William Blake, poet, engraver, and painter (1757-1827)
Copyright © 2018 The Golden Bough Tree Farm