Nature cleans a cylinder. That's why trees are round. It's not for strength as they tell you in school. Cylinders are strong, but trees and other such living things are cylinders because the wind will scrub them at any angle it blows.
Roman Szpur, Inventor of the laser lens
---
DIRECTIONS
---
Directions: From Highway #41 take County Road #13 west from Beaver Lake for 6km to the Municipality of Tweed sign. Golden Bough is then the first farm on the south side, #900.
Alternately, go though the village of Marlbank to the north end and follow the road to the right (east). Golden Bough is then the second farm on the South side, #900 Napanee Rd. Map to Marlbank.
SPECIALS - ONLY AVAILABLE IN SPRING
---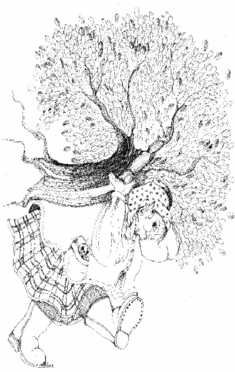 $200 SPECIAL
For Pick Up Only
April 27 and 28, 2019
Some summers, many of our trees more than double in size in their fertile nursery beds. With such an abundance of trees too large for mailing, we're offering this special!.
25 trees 100-200cm for $200
Choose from the items listed below. Any mix in bunches of 5.
Celtis occidentalis
HACKBERRY Z3/15m
Celtis tenuifolia
SWARF HACKBERRY Z3/6m
Acer nigrum Corylus colurna
BLACK MAPLE Z3/20m
Gleditsia triacanthos inermis
THORNLESS HONEY LOCUST Z4/14m
Quercus macrocarpa
BUR OAK Z2b/16m
Corylus colurna
TURKISH HAZEL Z5b/7m
Phellodendron amurensis
AMUR CORK Z3b/11m
Cornus alternifolia
PAGODA DOGWOOD Z3b/4m
OPEN HOUSE
Saturday & Sunday, April 27/28, 2019
9:00am to 4:00pm
Come, browse and choose from our great selection of bare root trees and shrubs.
END OF SEASON CLEARANCE
Saturday & Sunday, May 4/5, 2019
Great buys on over-sized & leftover trees & shrubs.
Cash Payment
The tree which moves some to tears of joy is in the eyes of others only a green thing that stands in the way. Some see nature as ridicule and deformity... and some scarce see nature at all. But to the eyes of the man of imagination, nature is imagination itself.
William Blake, poet, engraver, and painter (1757-1827)
Copyright © 2019 The Golden Bough Tree Farm